Condensed Matter Experiment Ⅰ
Low-Dimensional Quantum Physics
http://web.tohoku.ac.jp/ldp/law.html
Staff
| | | | | |
| --- | --- | --- | --- | --- |
| Associate Professor : | Hiroshi Matsui | | | |
Research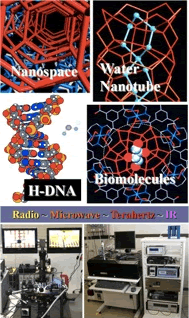 Our group investigates electrodynamics of water molecules, protons, electrons, ions, biological molecules confined in various types of nanospaces such as one-dimensional channels, two-dimensional narrow spaces and cage spaces. The electrodynamics is an interdisciplinary subject associated with biochemistry, medical and environmental science and energy problems, etc. Now we focus on the following subjects.
1) Proton conduction through water networks confined in the nanopore, and the dielectric properties of ions and biological molecules encapsulated in the water network.
2) Novel organic compounds with Rhenium ions and strong hydrogen bonds, indicating proton coupled electron transfer phenomena.
3) Proton tunneling in silicate compounds.
4) Proton conduction in proton doped DNA and collagen to develop biological fuel cells.
Experimental techniques in our group
1) Low frequency conductivity and dielectric measurements (20 Hz ∼ 3 GHz) are performed by LCR meter, impedance analyzer and network analyzer together with homemade prober system.
2) Microwave conductivity measurements (10 ∼ 100 GHz) based on a cavity perturbation method.
3) Terahertz time-domain spectroscopy (0.3 ∼ 3 THz)
4) Infrared spectrometer (100 ∼ 7800 cm¹) equipped with a Cassegrain microscope.
5) Raman spectrometer equipped with a microscope.